BioGeometry Online Foundation Training
BioGeometry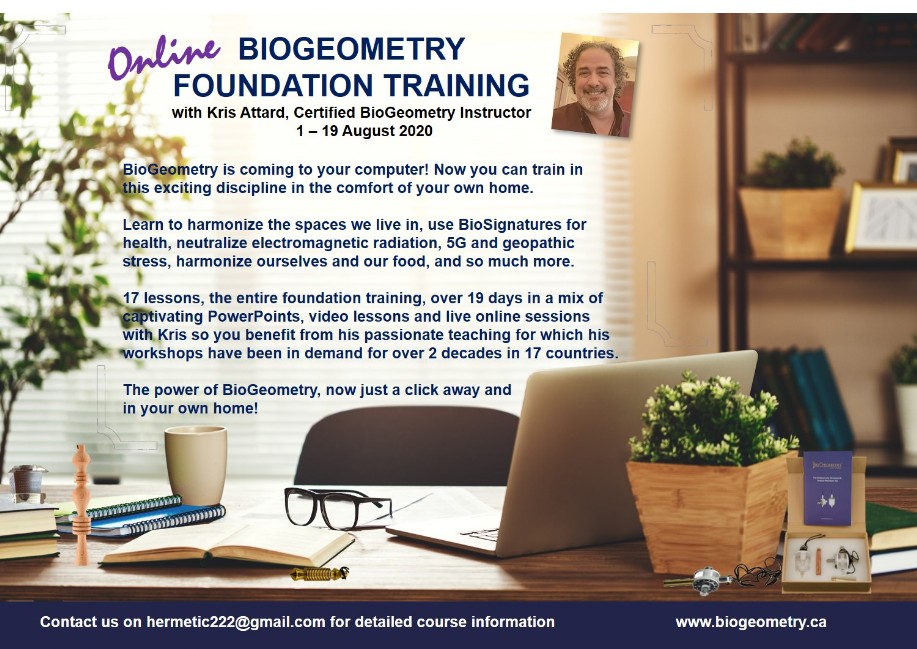 THE
ONLINE FOUNDATION TRAINING -


BIOGEOMETRY TRAINING COMES TO YOUR HOME!

The BioGeometry Online Foundation Training presents the same curriculum of material as the 6-day live Foundation Training, but it is spread over 16 lessons. You learn from a combination of three things:

Pre-recorded captivating PowerPoints with Kris Attard's voice commentary,
as if you were in class watching and listening to his presentations. Being a video, you can easily rewind it to listen to a particular segment again, or pause if you need a coffee break, and resume later.

Many lessons also have a pre-recorded
video of Kris demonstrating and teaching you the technique
in real life use, so you can learn it easily.

Eight live online sessions
in which all the class logs in at the appopinted time and joins Kris Attard in an online Zoom session in which the previous lesson is reviewed so the students get the chance to ensure they understood its salinet point, and any questions they had get answered. This is also the time in which the instructor gets to assess your progress with the actual techniques.
A difference from the live Foundation Training is that the online training includes five assignments that have to be submitted up to two weeks after the course. The reason is that the assignments help ensure that the course material is being studied.
Questions are encouraged, ideally the student sends their questions by email and the instructor answers them together in the next live session, for all the class to benefit from the answer. However, it is also possible to ask questions during the live sessions of course.
To learn more about trhe subject of BioGeometry material itself, you are referred to the BioGeometry Foundation Training page. For more details about the online training, you can download the brochure, or you can email Kris if you have specific queries.
Check out our calendar for dates of the next scheduled Online Foundation Training.