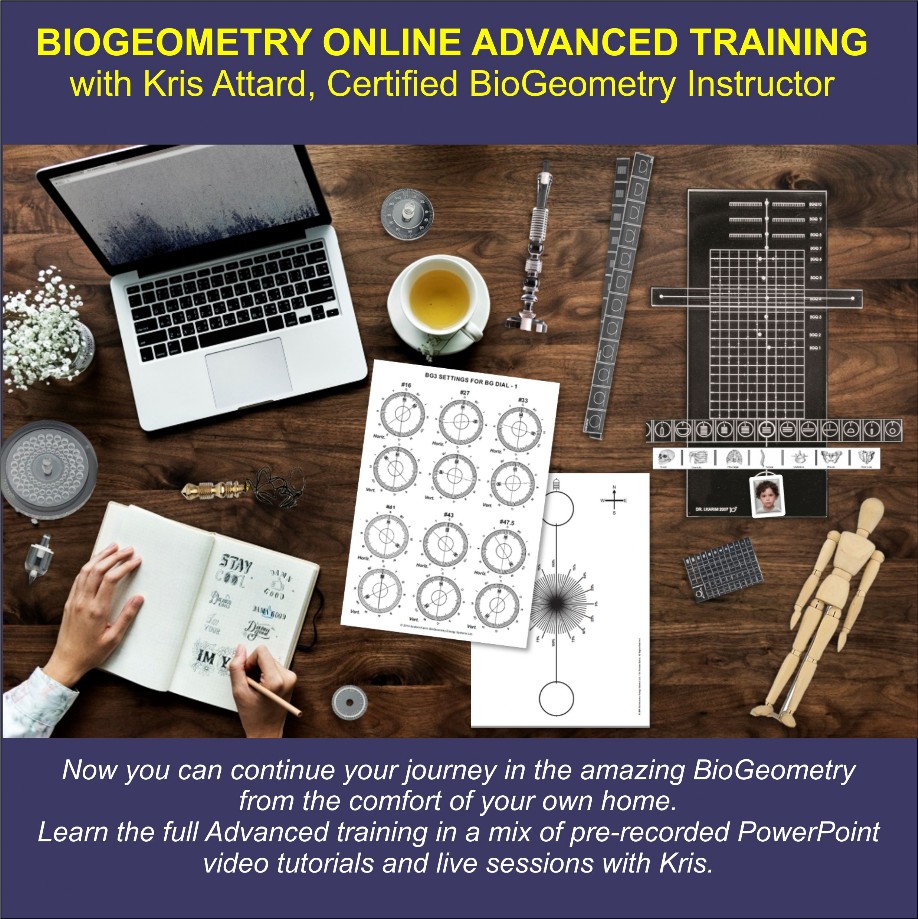 THE
ONLINE ADVANCED TRAINING -


TAKING YOUR AWARENESS AND SKILLS TO NEW DIMENSIONS!

The BioGeometry Online Advanced Training presents the same curriculum of material and approach as the 6-day live Advanced Training (click for general information), but it is presented in an online format which makes it accessible to anyone anywhere in the world. Just like the live training, this course opens doors for you in BioGeometry by making you eligible to continue to the specialised Licensed BioGeometry Home Balancing Practitioner training, or attending any Special Topics events with the founder Dr. Karim which may be organised from time to time.
In this course you will learn from a combination of three formats:

Pre-recorded captivating PowerPoints with Kris Attard's voice commentary,
exactly as if you were in class watching and listening to Kris' presentations but being a video, you can easily rewind it to listen to particular segments again, or pause if you need a coffee break and resume later. PDF printouts of the slides will also be sent to help you revise the subject material. There are also tutorials of the core techniques of BioGeometry which use the French vibrational radiesthesia method with the specialised BioGeometry pendulums which are part of the course.

Many lessons also have a pre-recorded
video of Kris demonstrating and teaching you the technique
in real life use, so you can learn the technique more easily.

Eight live online sessions
in which together with the other class students you log in at the appopinted time and join Kris Attard in an online Zoom session. In these sessions, Kris will review the previous lesson so students can ensure they understood its salinet points, and here you will have your questions answered. This is also the time in which the instructor gets to assess your progress with the actual techniques by watching everyone perform them, both during normal sessions as well as sessions which will be dedicated to practical exercises..
A difference from the live Advanced Training is that the online training includes five assignments that have to be submitted after the course, all based on topics covered in the lessons and Live Sessions, some of them are even done during the live practical sessions. The reason for the assignments is that they help ensure the instructor that the student has understood the core course material. A certificate is presented.
Questions are encouraged, ideally the student sends their questions by email and the instructor answers them together in the next live session, for all the class to benefit from the answer. However, it is also possible to ask questions during the live sessions of course.
Check out our
calendar
for dates of the next scheduled Online Advanced Training.
The essential compulsory tools for the Advanced Training
can be purchased from us with the course at discounted prices and with free DHL shipping (offer only for course participants). Details on registration form
1.
The I
KUP pendulum & emitter
enables linkage to the different planes of nature, and besides being an excellent device for calibrating to personal wavelength, is used with the Human Archetype Ruler.
2. The BioGeometry Dial emits angular energy qualities, used for correction of problems in spaces, working tops, doorways, body imbalances, etc
3. The Human Archetype Ruler is the best energy measuring tool available, enabling measurement of BG3 qualities and energies in any chakra, organ, object, design, space, etc, and at any plane of nature, making the permutations virtually endless. It can also transmit the integrity of the human archetypal template.
4. The Hemberg Emitter is used for neutralising incoming radiation from outside sources such as mobile antennas, electric pylons etcm as well as correcting imbalances and diturbed energy keys in rooms.
Here are the 16 lessons you will learn in Kris' ADVANCED BIOGEOMETRY TRAINING. Move your mouse over the image for a brief description.
We start with a review of the important principles and concepts of Foundation, as well as the core techniques on which we will be building and advancing.
We start our exploration
of this most importtant advanced tool with Dr. Karim's discovery of the hidden template of the human archetype in the Egyptian temple walls.
Using the HAR to measure BG3, chakras, spaces, body organs etc. All measurements can be done at any specific plane or sub-plane of nature, opening vast possibilities.
Using the HAR as an emitter of any variable placed on it, as well as emit the energetic integrity of the human archetypal level. Very useful for personal applications.
This lesson teaches you how to use the extremely versatile Dial to correct energetic imbalances in spaces, body organs, worktops, earth energy lines and so on.
Using the magic of BioGeometry to generate high levels of BG3 in any space through using samples of tiles, wall covering, furnishings and so on in the MBW.
We cover three important stands - Corner Stand for BG in spaces and correction of gridlines etc, Hemberg for toxic outside sources e.g. masts and Outdoor Stand.
An important chapter in BioGeometry, the planes and sub-planes of our invisible reality through which we can harmonise problems at hitherto inaccessible deeper levels.
A small but amazingly potent emitter of unpolarised BG3 which provides energy clearing at deep levels. This might become one of your favourite personal techniques.
A powerful technique of ancient origins, the Net is a visualisation method for clearing objects, people and spaces energetically at levels from physical to spiritual.
Using the modified Turenne Ruler (supplied free) to measure % resonance between objects. We also addresx the Threshold Principle so useful in all energy work.
The positions to activate chakras especially the protective little known base-ground chakra and the three higher spiritual chakras, and the sound that opens them all.
The fascinatung Brain Stands which help synergise left and right brain. Includes deep metaphysical explanation of the two torus axis which are at the root of spiritual work.
Taking Biosignatures further, including focus on special biosignatures and the use of Bionumerals to combine two methods for correcting energetic imbalances.
Using Harmonic dimensions (Excel file provided) for BG3, harmonic scaling methods of placing elements in rooms to help neutralise gridlines, and more.
We discuss powerspots through history in architecture. Learn to create a grid of powerspots in your area and connect it to a BG3 spot in the sky just as the ancients did.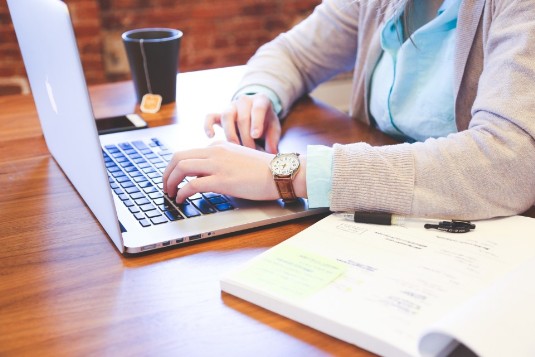 REGISTER FOR THE ONLINE ADVANCED TRAINING

1
.
From the
CALENDAR
page, fill in the Registration Form (found next to the Calendar listing)
then click on the Print icon and choose PDF as printer. Or you can print it in paper form and fill out by hand
2
..
To secure your place on the training,
email
us the completed form together with a scan of your Foundation Training certificate, or if you printed the form on paper, scan and attach to the email.
3
. You can then proceed to effect payment for the course as indicated on the Registration form.
You will then receive from us an acknowledgement of your registration, and subsequently when payment is received.
- It is suggested you read the course details on the course brochure (downloadable near each workshop entry on the
CALENDAR
page) before registering
- If you do not yet have a Foundation Training certificate, inform us accordingly.
- We will send you the course tools once payment is received, so be mindful of the time frame and register as early as is possible. During this covid situation, we are supplying DHL delivery free of charge.
- Tools will be sent to the address you provide on the form, so please ensure this is clear and complete. Note that our couriers do not deliver to P. O. Box addreses.
- If you have any queries about registration, payment, tools or anything elser elated to your registration, please email us ideally putting REGISTRATION QUERY as the subject of the email.
BIOGEOMETRY ITEMS.
We usually have a stock of other BioGeometry items, both advanced items such as Brain Stands, Sub-plane Clearing Cards, Material Balancing Wheels, BG28 etc as well as pendants, rings, phone harmonizers, stickers and so on.
These can be seen
here
. If you wish to add any of these to your order, email us what you have selected and we will inform you if it is in stock, and if so you can receive them in the same shipment as your course tools.